How Did I Get Here? A panel of designers discuss career paths
I had the great honor of being a panelist with the AIGA Minnesota's Lunch and Learn "How Did I Get Here? The Winding Career Path in Design."
Listen in to for both the interesting journey myself and three other designers have taken, but also a deeper insight into what graphic designers do and why we are so passionate about doing it!
Features designers Paul Nylander, Muriel Bartelme Kreske, Molly Hillstrom, and Travon Sellers.
Links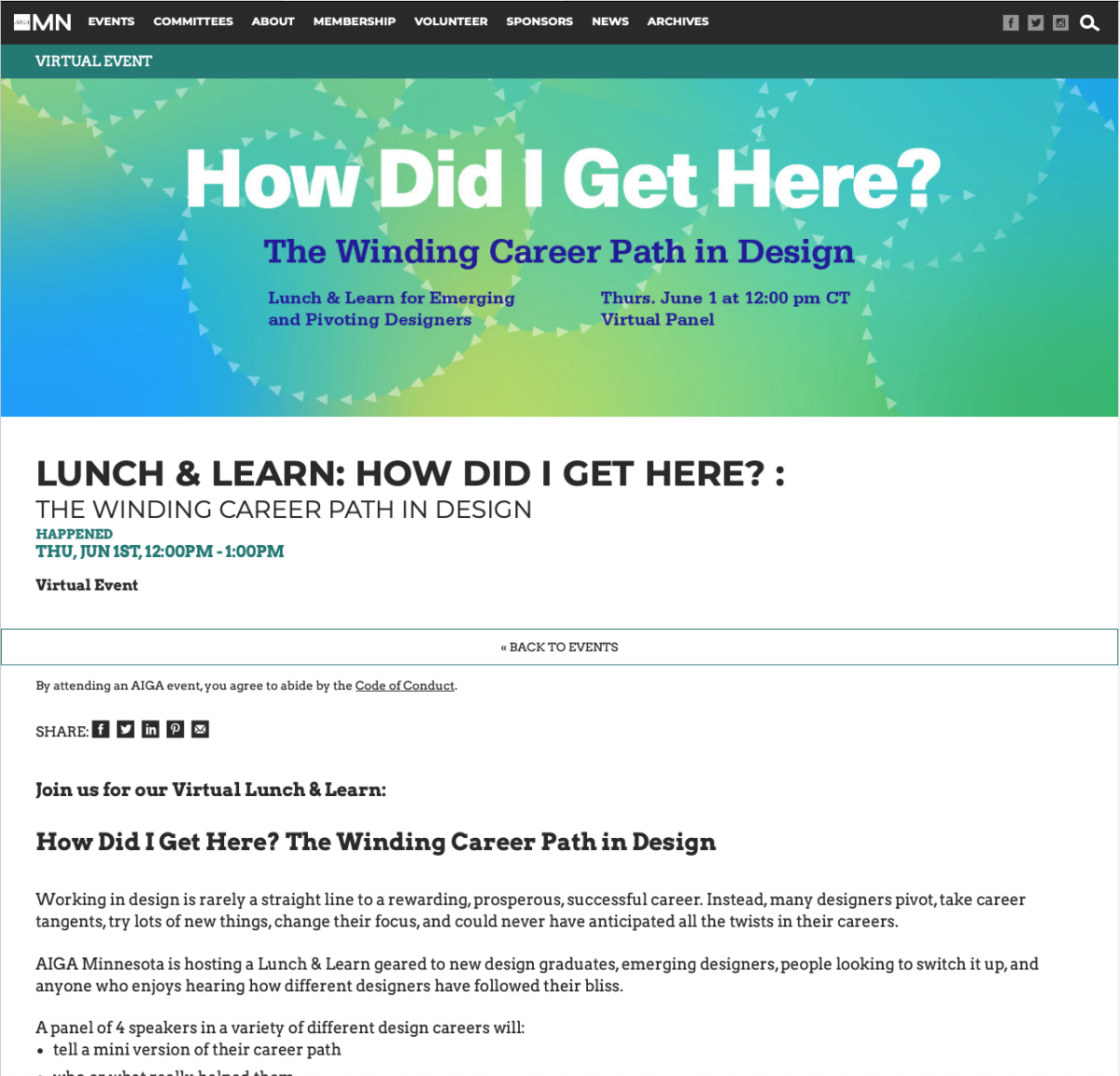 Thoughts/Takeaways
ALL experience is worthwhile—it is what makes you unique and therefore more interesting to the right person. Two thoughts:

It means you need to have experiences to discover what interests you and to build your personality beyond school projects.
It also means that you will not be interesting to everyone. And that is good—so long as what you are doing (or at least what you are talking about that you have done) actually is interesting to you.

Design is not a difficult set of skills to obtain. You don't even need a degree, there are no certifications. But being a designer is more than understanding the rules. That is why design careers never follow a straight path—they shouldn't, because as designers we are NOT assembly line workers churning out identical solutions. We need to think, draw on our life experiences, and have a voice—and an attitude—to have any hope of creating something beyond mediocre work. We need to try and fail, and we need to have an environment that is safe enough to allow some of that to happen.
We all suffer from imposter syndrome. It is ok to not be "all that," and better if you don't try to fake it—someone with more experience can see right through, anyhow. Don't sell yourself short, but also don't exaggerate.
Allow that some things just take time. Building a network, for example. That is why, generally, it is best to start "inside," and only move to freelance or start your own business once you have clients that know you and know your capabilities. 
Also, contemplating "solopreneur" understand that there are tradeoffs. Choosing your work and your clients is awesome, but remember that you will have to do the work to find prospects, sell them, and maintain them … as well as doing all the creative work. If, instead, you just want to "do the work" 100% of the time, better to work for someone else who can bring you business.