Color Relativity: Creating the Illusion of Light with Paint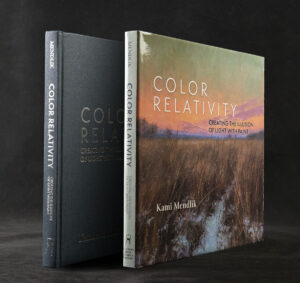 The effective use of color requires understanding that it's appearance depends on the colors around it. That is to say, it is relative.
In this book, master painter Kami Mendlik set out to encapsulate her personal technique, an approach honed through countless sessions with students. This is backed up with dozens of her own captivating and award winning impressionist painted landscapes.
The bar was high for this project—part art book, part instruction, and all exacting!
Creative Brief
It was nearly two years prior to the ultimate publication date when Kami first approached me with her vision for a book. Originally titled How to Paint Like Kami Mendlik, her goal was to document the techniques she used to create her stunning paintings. Techniques that she has taught to countless students across the country since founding her school, the St. Croix River School of Painting.
Creative aspects aside, we knew from the beginning that the economics of this project would be a challenge—as it is with any limited run hardcover book. This kind of book is expensive to produce: comprehensive editing, complex design, and exacting printing and binding. And Kami didn't want to make any compromises on the quality of the book.
For reference comparables, she shared with me a dozen books by other painters. From expensive coffee table art books, to mass-produced instructional technique books. Each held a piece of the puzzle, but none was exactly right.
Thankfully, Kami had a vision for what she wanted to hold in her hands. Not just a catalog, more than a popular how-to, full of images but also her personality. And generous white space, visual room for the reader to breathe.
Design Challenges
Support students by creating a comprehensive reference.
Guide readers—students and patrons alike—through Kami's unique process.
Accurate color reproduction of references and gallery paintings.
Large format 11 x 11 inch hardcover book with dust jacket—larger than many printers are willing to work.
Create a design that justifies the necessarily high price tag of the production.
Cover Development
After our kick-off meeting, I created several concept covers for Kami's consideration. Fortunately, she was ok with adding words over her art (not all artists are), although she didn't want anything cropped. Although many of her beautiful paintings would work, her image Into the Silver Lining really wanted to be the cover. The original was 24″ x 24″, so seemed perfect for the cover of a square book.
Dust Jacket
Too bad the cover of a "square" book isn't actually square! It nearly is, but details matter; between the bleeds extending the top and bottom, and the wrap around the cover to the front flap, the image needs to be slightly off square. But a bit of creative adjustment to the hidden edges, I could still make it work. All part of the services!
We were also able to work together to shorten the main title and add a descriptive subtitle. This helps readability and layout. Both could sit comfortably above the horizon line of the image, with her name nestled down amongst the winter grasses of the scene. Through careful placement, the text was able to flow within the composition, rather than compete with it.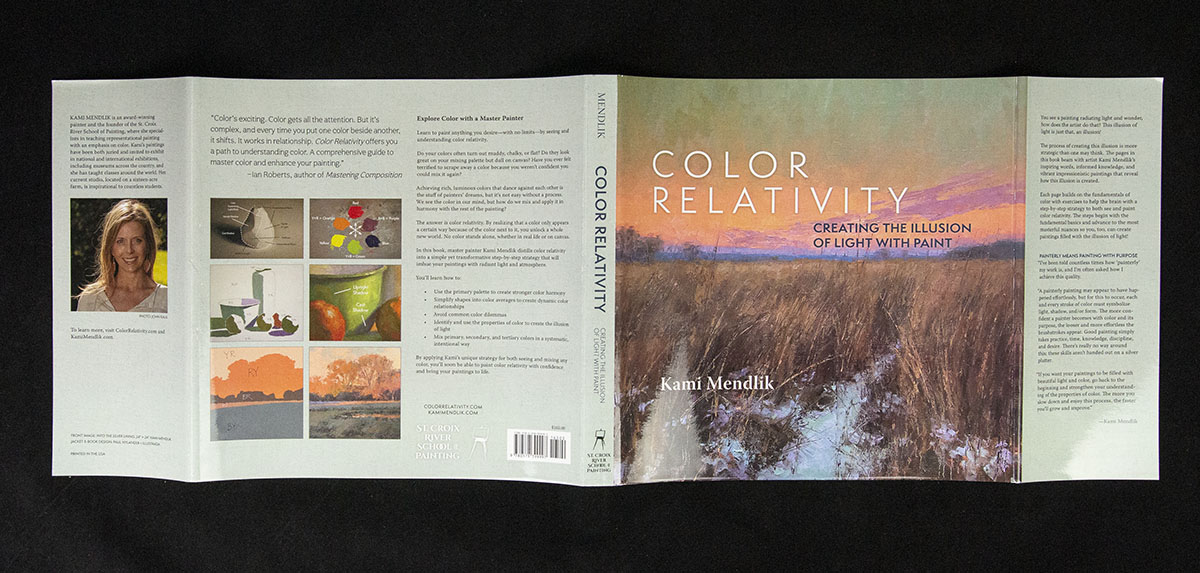 From a design perspective, I consider a dust jacket as a seven page object: two flaps, two bends, front and back, as well as the spine. For the non-image areas I repurposed a scan I made of the back side canvas of one of Kami's painted color swatches.
Chock full of quotes, descriptions, and sample images, the back cover and flaps were the only really "commercial" aspects of the book. The rest is pure artistic pleasure.
Hard Cover & End Sheets
A dust jacket means there are actually two covers to the book: the jacket, and the case wrap cover over the book boards. Plus, optionally, printed end sheets (the pages that hold the book block into the cover). In Color Relativity we opted for a book cloth fabric cover in navy blue, foil stamped with silver. Classy, clean, and somewhat a shame that it is hidden!
This was completed with a blue/brown duotone end sheet tribute to many of Kami's plein air classes.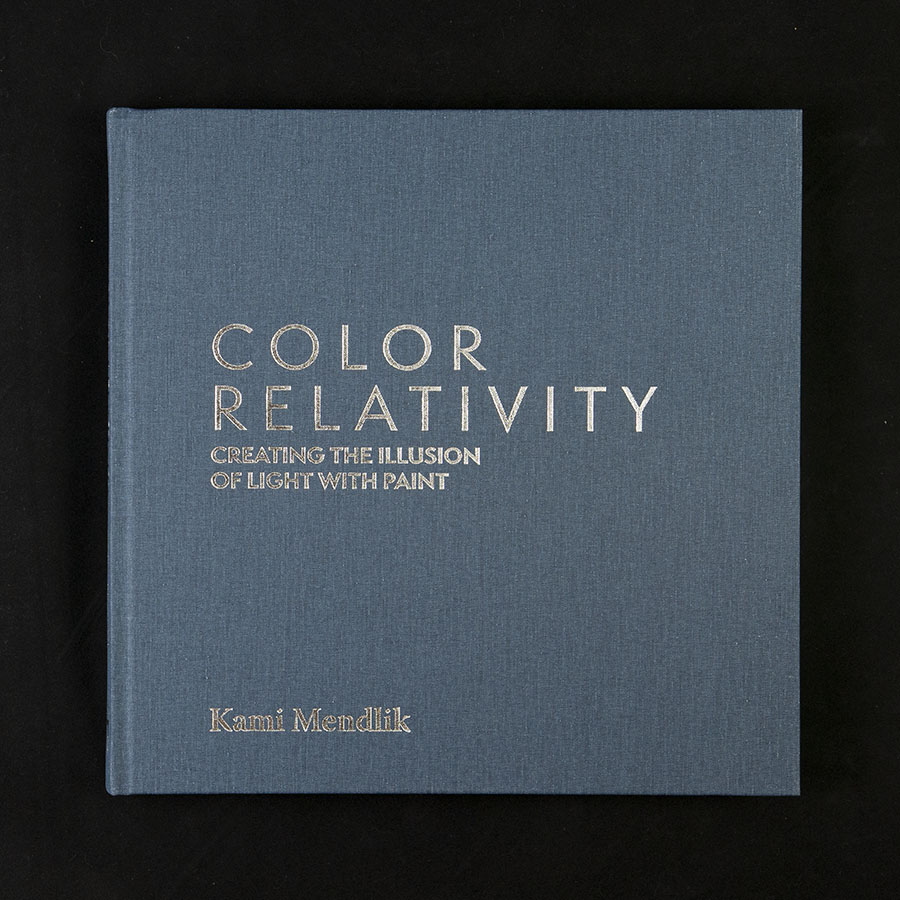 Interior Layout
The interior needed to be both elegant and functional. Elegant because of the beauty of the art being shared. And functional because this is also an instructional book.
With the large 11 x 11 page size, I knew the text would need to be broken into columns. I opted for a "2 + 1/2" column grid: two moderately sized columns, with a narrower outside sidebar. Images and quotes could extend into the sidebar for extra emphasis. The text could span the two primary columns as needed for headings and key points.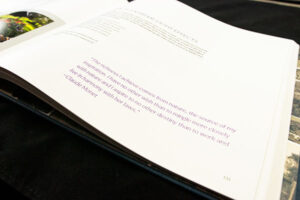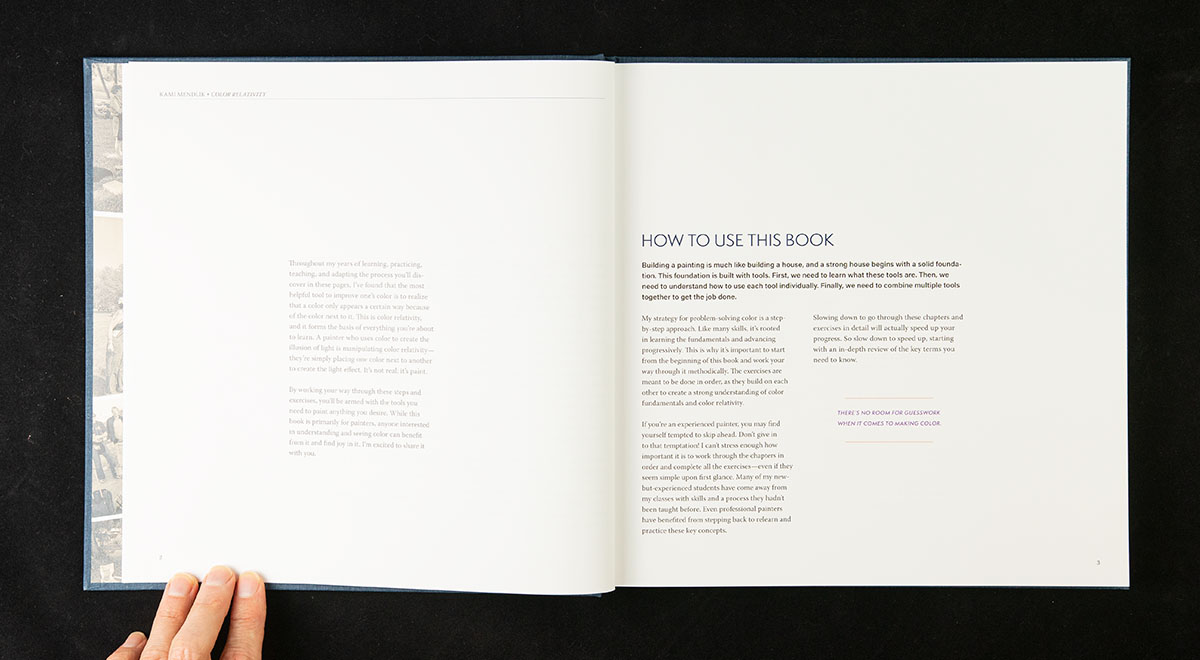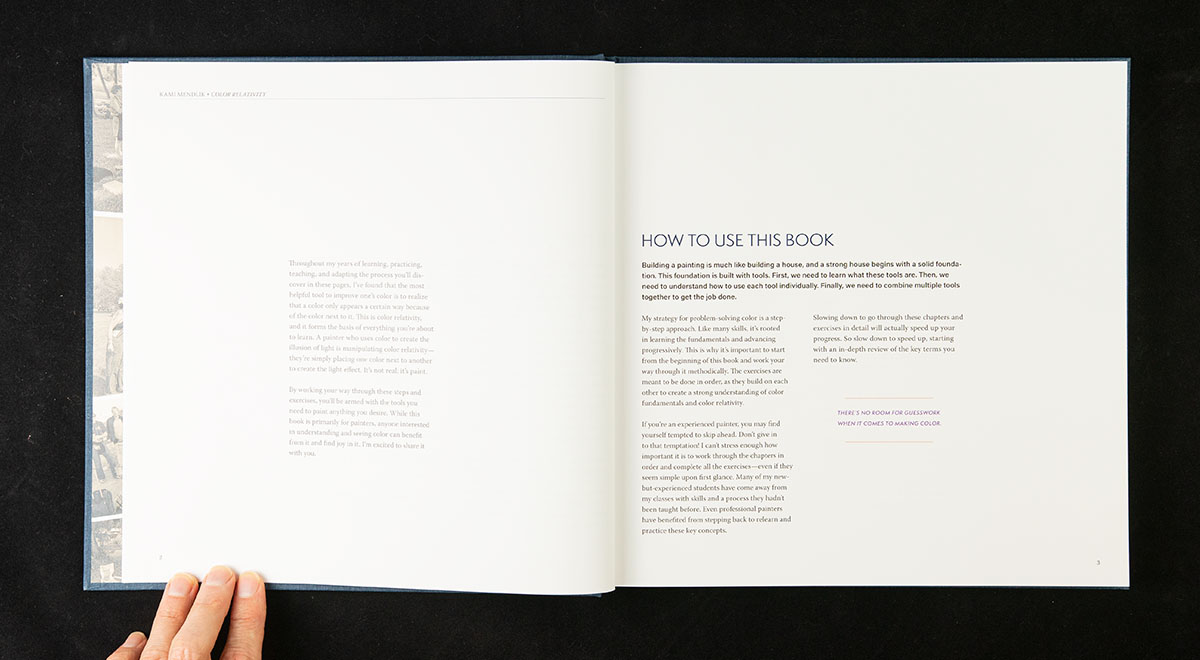 Then I created two alternate systems to manage the different types of content. The first, a two equal-column design to better manage image related instructions.
Then, with a little finagling in the step-by-step exercises, it was possible for me to create a clean and clear approach by limiting each step to a single column with three equal columns, letting the bottom be ragged between the steps. White space is good, and this structure provides an intuitive layout that is easy to follow.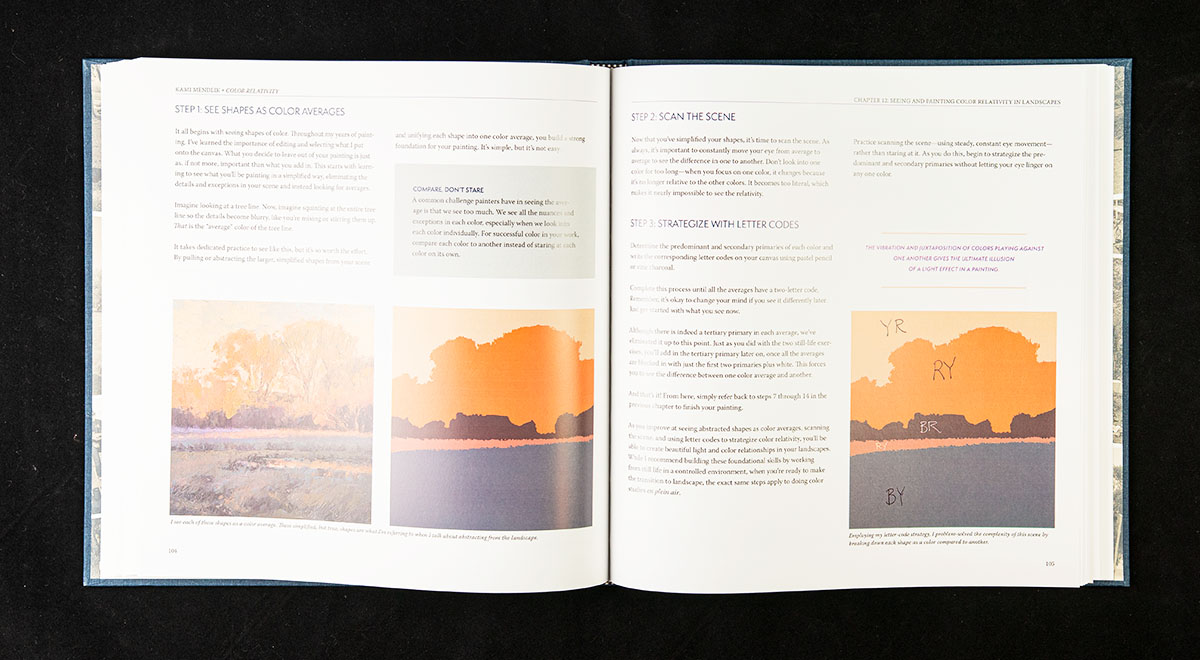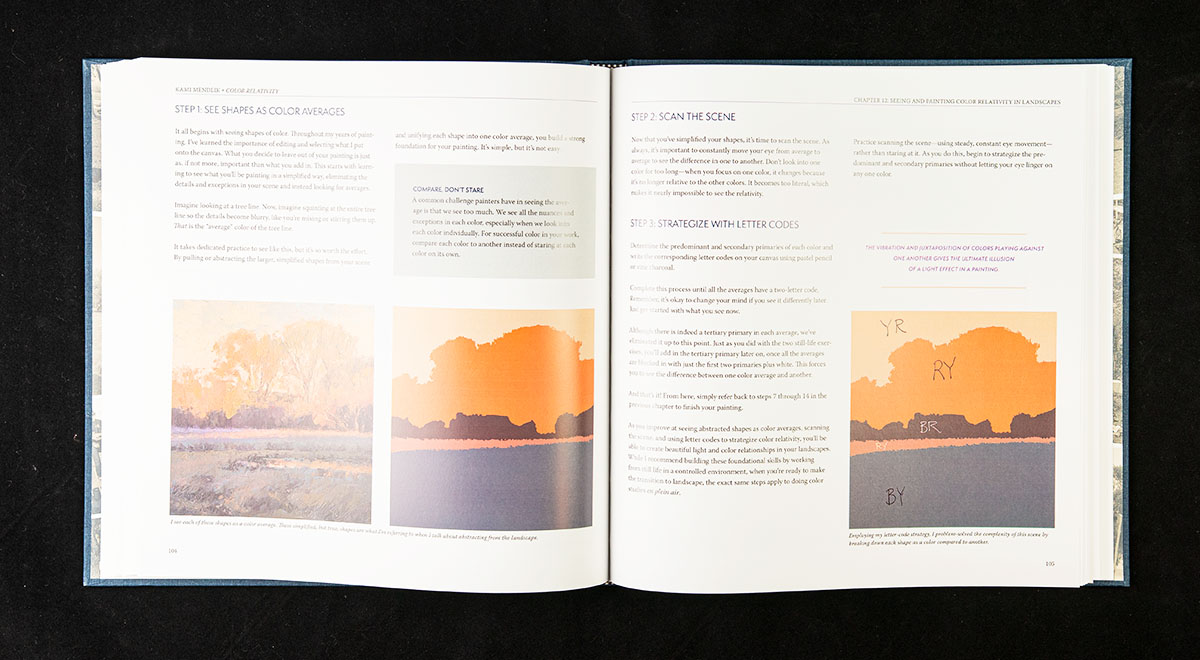 The gallery section followed yet another system, owing to the mixing of vertical and horizontal format images.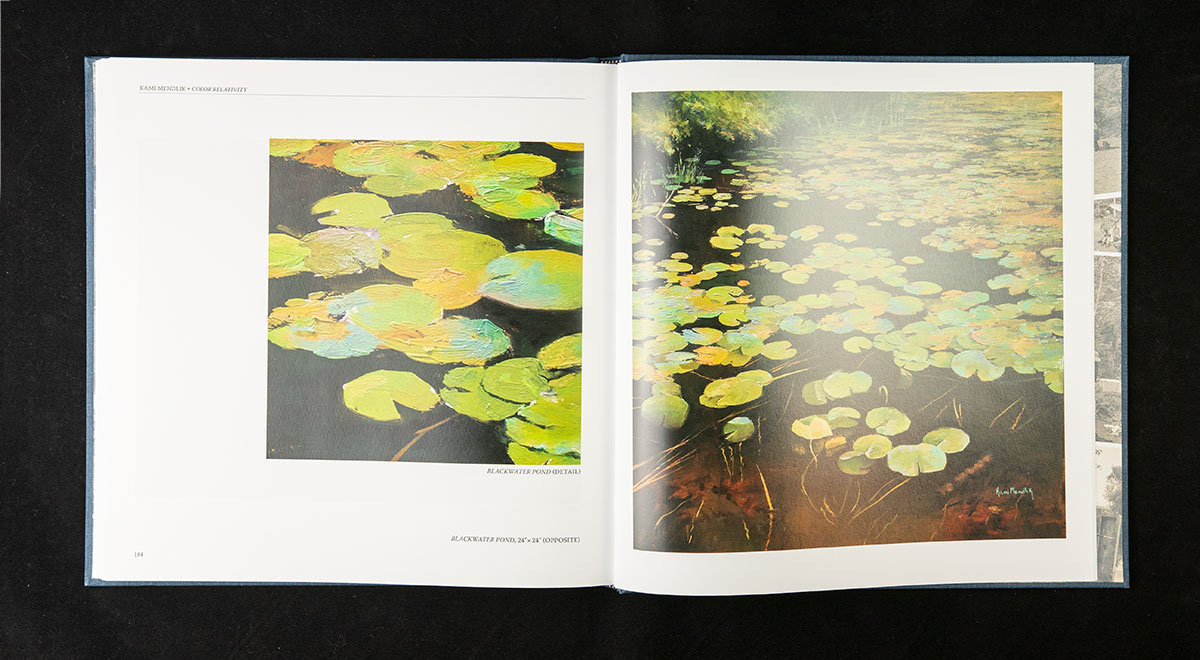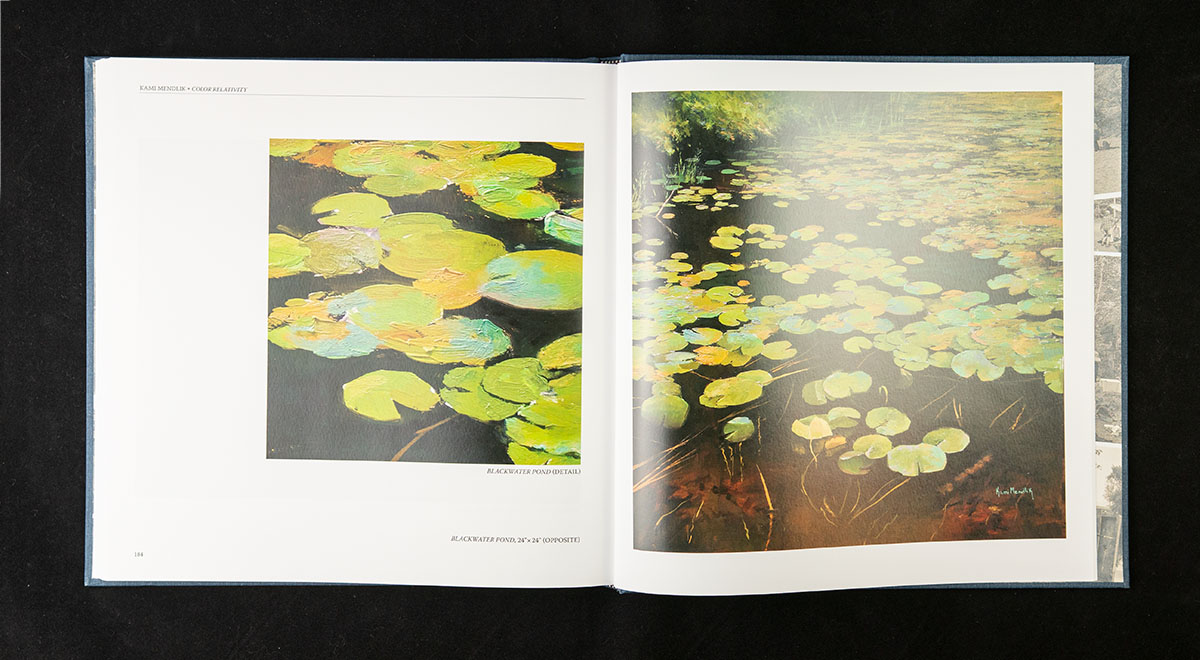 Promotional Materials
Kami has done a great job of advanced promotion of her book. In addition to her extensive mailing list (of students and admirers), she has tapped associate John Kaul to create an advanced promotional video for social media, has spoken on several podcasts (including The Artful Painter ep. 72, Savvy Painter, and Art School Live with Eric Rhoads) has planned magazine spots, as well as a presale gallery party and book launch party.
I was happy to help out creating the announcement cards and signage for these last two events: miniature versions of the book (really dust jacket) cover on one side of a square announcement, with event details on the flip side. These are fairly easy to produce (although getting the color right at the small, local print shops can be a bit trickier) and a great way to connect with potential buyers!